One of the most versatile, great pieces ever invented...
Whether you are going for that "Bad-A**" look, or you just want a fun piece to spice up your outfit, leather is your go to piece.
The original jacket:
Pair this jacket with a soft, girly dress to balance girly and tough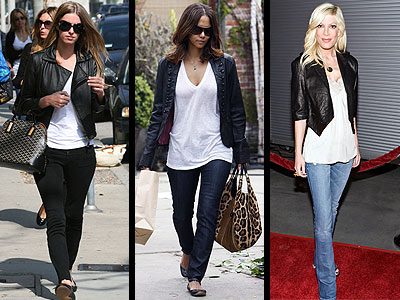 Opt for a brown jacket for a more natural, toned down look.
Colored leather jackets are a great way to add a pop of color into your day.
Look for jackets with detailing- it will add a distinct touch and spice up the usual jacket.
Leather is great for more than just a jacket
Although some of these looks may be bold and outside of your outfit comfort zone, go for it!! Everyone can pull leather leggings off.
These Bp leggings from Nordstrom have hints of leather, go for these if you don't want to imerse yourself in leather just yet.
Leather is great - throw it on with any old jeans and tee and you have a sassy outfit.
http://0.tqn.com/d/fashion/1/0/v/P/3/bjleather.jpg
http://cdn-s3-1.wanelo.com/product/image/2332369/original.jpg
http://www.tumblr.com/tagged/liquid-leggings?before=1350193339
http://outfitidentifier.com/?s=leather+jacket
http://pinterest.com/pin/81416705733679304/
http://pinterest.com/pin/250723904225291030/
http://pinterest.com/pin/147000375307275812/
http://pinterest.com/pin/55098795411227260/
http://pinterest.com/pin/136233957448029988/
http://img2.timeinc.net/people/i/2009/stylewatch/trends/090406/halle_berry.jpg
http://2.bp.blogspot.com/-13OQf3SDLpo/TaQebZo56NI/AAAAAAAAAJM/5TcxVuEEggY/s1600/Emma+Watson+arrives+lax+with+brown+leather+jacket+chanel+sunglasses.jpg
http://chicisimo.com/files/2009/11/d8bc1db2-7e2d-ca5f-0247-6cde26686476.jpg
http://www.ssense.com/photos/women/09/1/2/9109F0403_1_2.jpg
http://cdn.indulgy.com/5D/U2/p8/7004214.jpg
http://3.bp.blogspot.com/_0lDIgR5vrUA/TJrFixCrafI/AAAAAAAACWc/K6vwAM-Q2Pc/s1600/LeatherJacket4.jpg
http://2.bp.blogspot.com/_GyP4cUEL1ro/TEUpTeAZ25I/AAAAAAAABJ8/Ll_tvwg8bAg/s1600/_6160609.jpg
http://3.bp.blogspot.com/_1NTjVbXtZZo/SxfCKBOl13I/AAAAAAAACfo/dY9eTwc3bN0/s400/purple.jpg
http://candieanderson.com/images/old/6a01127964c54a28a40120a653910e970b-pi.jpg
http://s6.thisnext.com/media/largest_dimension/59DF2F22.jpg
http://img.gifts.com/product/m/YGCGFVYVY6ELKV8DZ3BP_400.jpg
http://1.bp.blogspot.com/-jigpPO8fm3s/UHoC4f1SJgI/AAAAAAAADFo/ebxd-mTIRC8/s1600/106749453638014403_A6TGh5bp_c_large.jpg
http://1.bp.blogspot.com/-N0mcqzycVqE/UCW7nUEUNrI/AAAAAAAAIew/SBkZ6bWJn2M/s1600/via+bp+fashion+board-leather+jacket.jpg
http://g-lvl3.nordstromimage.com/imagegallery/store/product/Medium/10/_7073830.jpg
http://www.piperlime.com/products/res/mainimg/vegan-leather-peplum-top-black.jpg